This is my attempt to sound as not pretentious as possible. Not to claim that I'm in any position to criticize the Oscars, or to criticize those who criticize the Oscar, because I'm not sure anyone is. When we judge the Oscars, praise or bash winners, I feel people sometimes forget just what the Oscars are: a bunch of people who vote with their hearts not their head. And you want to know the trick?--that's perfectly okay.
I don't think the Oscars voters think like critics, and they really shouldn't. Critically praised films have their own way of lasting in the ether, especially if they're fortunate enough to lose the Oscar for Best Picture (more on that later). The voters cast their ballots with their heart, what movie they love the most. This year it was The King's Speech, not my favorite film of the year but a fine win nevertheless. Is it up to the caliber of The Social Network? Well that's everyone's personal opinion. The general bash-loving consensus wills us to believe that The Social Network is better, but apparently it wasn't.


I don't want to suggest that I consider the AMPAS the Alpha and Omega in film praise, but more often than not their "rights" outweigh their "wrongs." You have to view the Oscars and the award season objectively--devoid of bias or personal opinion.
The King's Speech
, much like
Dances with Wolves, Shakespeare in Love
, and
Driving Miss Daisy
of past, it was their favorite movie, not merely the one everyone told them
should
be their favorite. As often as the AMPAS is criticized for their group-think mentality, their against-the-grain voting speaks otherwise.
The English Patient
may seem like a soft lob, but really it was the movie they liked better. They're average movie voters, not pedestal placers. They like what they like, they don't need to vote with the crowd or be forced into a place in history.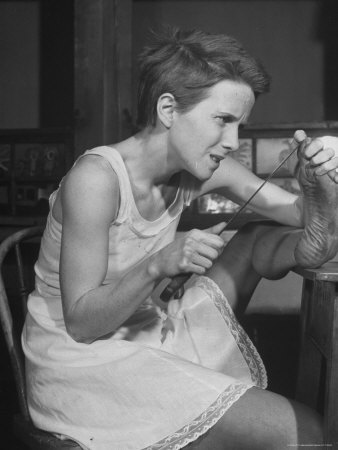 Julie Harris nominated for Best Actress
for Member of the Wedding
I just find it hard to bash the Oscars for their supposed missteps. What the Oscars are...are an encapsulation of cinema that year. Sure the winners are remembered in the collective, but film buffs DVR movies that were merely nominated for Cinematography or Score. It's because of the Oscars that movies like The Goddess, Member of the Wedding, Sunset Blvd., and The Jagged Edge are still viewed today. To me, whatever film or actor wins is a nice bonus, but I look at the nomination slate as a whole. Only four actors walk away with Oscars, but sixteen other performances will be remembered one way or another...and that's what matters to me. That's why I get excited for John Hawkes in Winter's Bone, who didn't have a chance of winning in 2010, but will hopefully serve a pleasant surprise in twenty years to a film buff like myself scouring for nominated performances.
The biggest misconception when judging whether or not a film "should" have won Best Picture--or other categories--is to judge it by what it beat out. Such reasons is why Oliver! is receives heavy sighs because 2001: A Space Odyssey didn't win (or receive a nomination) or the groans Ordinary People elicits only because it bested Raging Bull. In hindsight, it's very easy to say what was best or better, but Oscars are voted upon in the moment, and for what works in the then and now. Judge a win solely on the quality of the win, not on what film didn't win that year instead.
So basically, they matter, I just feel that people hold them in too critical of a light. They're just people who vote for what they like and people they like.
Check in soon for my series Get Over It, where I go to bat for historically-bashed Oscar wins of all shape and size, from The Last Emperor to Helen Hunt in As Good As It Gets.